Historical Cycling Tour of Isfahan along Bridges and the Nazhvan Forest Park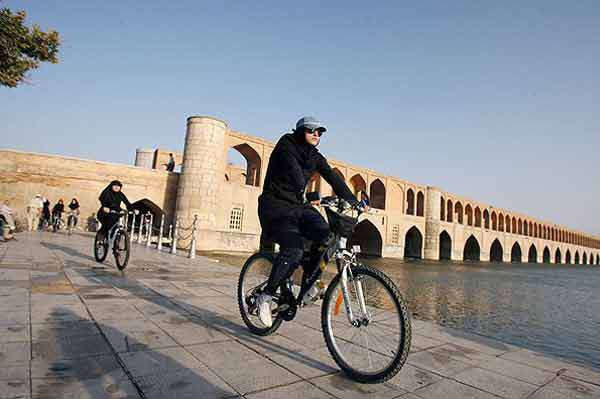 Duration (Hour)

2:30

Departure Point

At Participant's Accommodation
Highlights
You will experience an easy cycle tour suitable for all abilities.

You will visit the largest park in Isfahan.

You will visit historical Bridges in Isfahan flavored by the adventurous experience of cycling.
Cycling through your destination gives you the chance to see the city from a new perspective. This tour offers a safe ride along the picturesque landscapes where you can stop at different spots and slow down to soak up the local culture.
We offer two different experiences; you can choose cycling from Marnan Bridge to Shahrestan Bridge. On your way, you will pass on several historical bridges namely Si-o-Se Pol and Khaju. Cycling along the Zayandeh Roud River takes you off the beaten path and make you a unique experience of Isfahan.
The other option is cycling in a forested Park of Isfahan. Nazhvan Forest Park is ideal for biking since it is flat and safe. A guided bicycle tour lets you discover the beautifully preserved park of Nazhvan and invite you to breathe in more oxygen from the lungs of the city. You can also see a large number of people picnicking as it is a popular recreational resort for the locals.
We have another surprise for you to make this journey unforgettable and special. An action camera will be attached on the helmet of your guide and film the road you are tracking. At the end of the journey, you have a nice film of your trip.
What To Expect
We pick you up at your accommodation and take you to Nazhvan forest park or to Marnan Bridge. You do not need to be an athlete to enjoy cycling; you can pedal with us if you have an experience of cycling. We provide bicycles for you to experience a safe ride on paved roads.
In the first package, we start biking along the Nazhvan Park for half an hour, then we will stop for a light refreshment. We cycle for another 30 minutes and slow down to observe the details of culture and landscape. We pedal again to breathe fresh air and return to our meeting point, where you can return the bikes and helmets.
In the second one, we start our adventure from MarnanBridge, one of the oldest bridges on Zayandeh-Rud. Then we continue to the newly constructed bridges, Felezi and Azar. Next, we pedal to see the magnificent and historical Si-o-Se Pol Bridge. We will stay here for a while to rest and enjoy the atmosphere of this longest bridge of Isfahan. In our next step in Choobi Bridge, we will listen to a nice story about Safavid kings and their ladies. And finally we cycle toward Khaju Bridge, the only bridge in Iran with seven-colored tile decorations. If you stay for a while under the arcs of this bridge, you will have the chance of seeing the live performance of local music.
Join us in these tours if you are an active traveler and your trip will be a true ride of Isfahan.
Important Information
Additional Info
-Minimum age is 15 years.

-A reasonable level of biking skill is necessary.

-Your booking will be confirmed via an e-mail including updated prices.

-We reserve the right to impose changes on prices due to economic fluctuations.
Cancellation Policy
Bookings missed or cancelled within determined hours will incur a strike against participants as below charges:

Before 72 hrs : 25%

Before 48 hrs: 50 %

Before 24 hrs: 70 %

Within 24 hrs: non-refundable