Jameh mosque of Kashan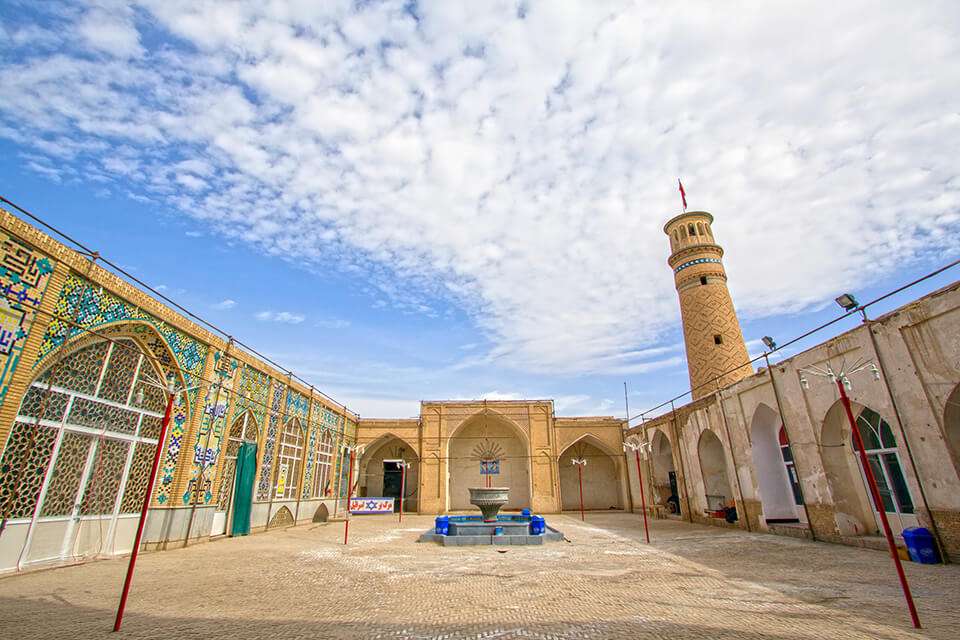 Visiting

Jameh mosque of Kashan in Kashan

Theme

History and Culture

Code

IRSG300

Duration

30 mins
What To Expect
Visiting the oldest historical mosque of Kashan with a minaret dating to the Seljuk era (around the 11th century).
Explore the Jameh mosque of Kashan
Jameh Mosque of Kashan
You are now in the oldest historical building in Kashan. Jame mosque (congregational mosque) is a Seljuk structure with the third oldest minaret in Iran. The minarets of the mosques in Saveh and Zavareh hold the first and second places respectively. Archaeological excavations revealed that there was originally a fire temple in this site, which was converted to the mosque in the Islamic era.
The mosque comprises a vast courtyard with a pool in the middle, two spacious winter prayer halls on the northern side on the ground level and a summer hall on the basement. It also features an extensive porch (ayvan) with a ceiling of about 14 meters, on the western side. A high two-layered minaret stands at the southeast of the mosque displaying nice brick-work decorations and a Kufic inscription dating to 1074 (Seljuk period). This minaret is the oldest element of the mosque. According to the recent archaeological excavations, the square-shaped mud bricks applied in the minaret, are architectural characteristics from the Buyid Dynasty. The dome covering the prayer hall and the altar is inscribed with the names of Malekshah Seljuk and his minister, Khajeh Nezam al Molk Tusi.
This mosque, which is the oldest dated structure in Kashan, was ruined and rebuilt several times. The earthquake in 1778 caused a major destruction. Later, Abdolrezaq, the ruler of Kashan in the Zand era (the 18th century), commissioned a great restoration, which took more than 10 years. In the main prayer hall, there are two altars (mihrabs). The larger one from Seljuk period bears some exquisite stucco works and is inscribed by a Quran verse about the obligatory duty of Friday prayer. The smaller altar, built in the Safavid era, is located in a different orientation, compared to the larger mihrab, and it points at the more precise direction. The other historical feature of the mosque is the remains of furnaces used for baking ceramic vessels which date back to the 11th and 12th centuries.
Important Information
Additional Info
The mosque is open during the prayer times.
Cost Info
Goosht-o- Loobia (mixes beans and meat) in Madarbozorg Restaurant

-

Mosamma Bademjan (eggplant stew with camel meat) in Abbasi Restaurant

-

Shefteh Somaq (traditional meatballs) in Mozaffari Restaurant

-