Agha Bozorg Mosque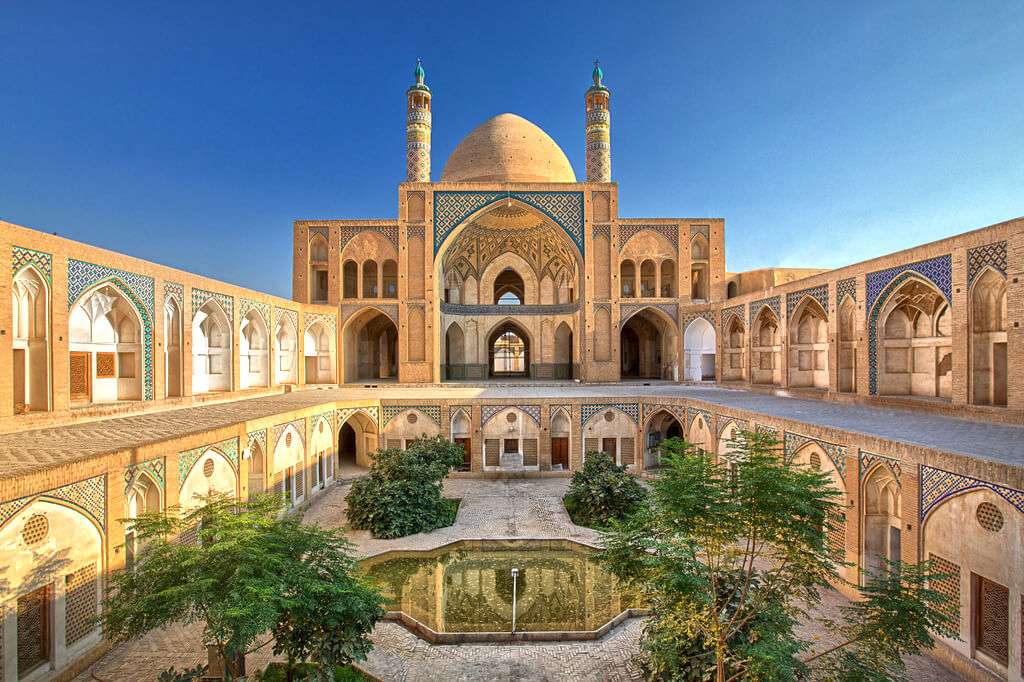 Visiting

Agha Bozorg Mosque in Kashan

Theme

History and Culture

Code

IRSG299

Duration

30 mins
What To Expect
Visiting the Aqa Bozorg mosque and madrasah in the center of Kashan. This 19th-century structure enjoys a unique spectacular architecture.
Explore the Agha Bozorg Mosque
Agha Bozorg Mosque
Pleasing in its simplicity, this is a five-story mosque with 200 years of history. Haj Mohammad Taqi Khanban commissioned the construction of this school to house the preaching sessions carried out by Mullah Mahdi Naraqi II, known as Agha Bozorg. Construction of the mosque was started in 1834, in Mohammad Shah Qajar's era, and finished in Naser al-din shah's era (1848- 1895).
This showcase of Iranian-Islamic art is thought to have been the prototype for symmetric architecture. The portal is accompanied by two stone benches which were used as resting places for passersby. The inscription above the portal points out the tax exemption of the mosque in the order of Mohammad Shah Qajar's era. The entrance door is nailed by more than 6000 pins, the iron oxide of which prevents the destruction of the wood by termite.
The courtyard is built in two floors. The lower level yard incorporates a pond, a fountain, a garden, and drawing on a natural cooling system. There are three prayer halls (shabestan) attached to the yard, in harmony with the mosque and the school. The upper level is surrounded by 12 student rooms (hojrah). It is recorded that the northern prayer hall, which has 40 columns, was built over the remains of a 15th-century mosque and the western prayer hall was built in 1868.
Four stone stairways on four corners of the yard, connect the rooms to the higher courtyard. There is another stairway in the middle of the northern wing leading to the sardab (basement). Sardab is also connected to the wind towers, creating a pleasing air flow in the northern prayer hall.
The two tiled minarets and the double layered, 18 meters high brick dome, crowning the octagonal podium, are among the tallest buildings in Kashan. The dome is among the biggest brick domes of Iran; it is decorated with fine brickwork, exquisite Quranic inscriptions, and calligraphies. Particularly remarkable is, unlike other mosques in Iran, the dome installed over 8 free columns. Also, the southern wing, usually a closed area, where the altar is seated, is an open area in this mosque. All these features create a unique open space helping the air ventilation.
Important Information
Additional Info
The mosque is closed on National Holidays (only the religious mourning days)
Visiting the mosque is free of charge.
Cost Info
Shevid polo (rice with lamb) in Mozaffari Restaurant

-

Rice and Kabab in Mozaffari Restaurant

-

Mosamma Bademjan (eggplant stew with camel meat) in Abbasi Restaurant

-

Shefteh Somaq (Traditional meatballs) in Abbasi Restaurant

-