Sultan Amir Ahmad Bathhouse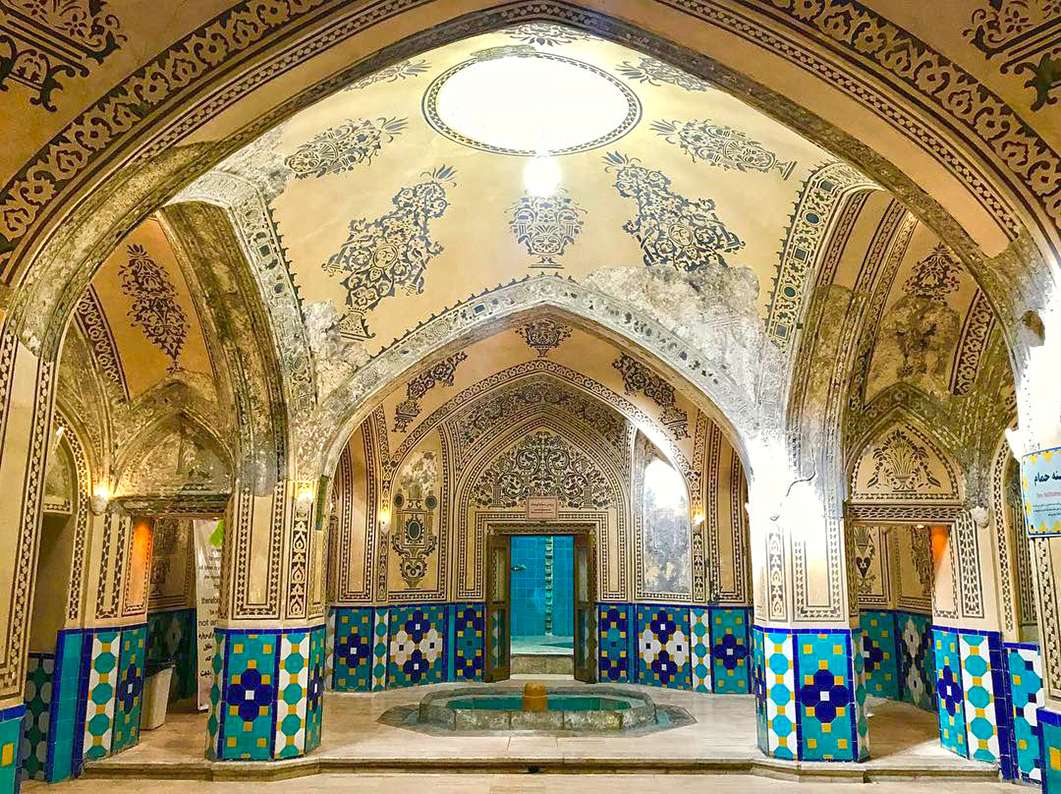 Visiting

Sultan Amir Ahmad Bathhouse in Kashan

Theme

History and Culture

Code

IRSG297

Duration

45 mins
What To Expect
Visiting the traditional bathhouse of Kashan dating back to the 16th century.
Photos of the Sultan Amir Ahmad Bathhouse
Explore the Sultan Amir Ahmad Bathhouse
Sultan Amir Ahmad Bathhouse
Iranians have had bathhouses for more than 2000 years. By the Safavid era (17th century), which was the most prosperous era for architecture, there were 182 bathhouses in Iran. Whether in the post-Islamic or pre-Islamic era, baths have played an important role in people's social life. These peaceful places, lit by a soft relaxing light, also functioned as public hubs where people could meet and talk to each other, find the right girl for marriage or spread rumors!
People also used to practice their traditional rituals and customs in the hammām (bathhouse); for example, the rituals of purity (as purity was considered a requirement of life), as well as pre-wedding rituals such as hannā-bandān. Hanna-bandan was a ceremony in which the bride and the groom went to the bath separately and in the company of family members and friends, in order to have their hands and feet dyed with henna as the symbol of happiness. The ritual is still being practiced although not necessarily in a public bathhouse.
Sultan Mir Ahmad historical Bathhouse, an architecturally noticeable building in Kashan, exemplifies a Persian public luxurious bath in an old affluent neighborhood. This Safavid Bathhouse named after Sultan Mir Ahmad Mausoleum, located nearby, is an exhibit of turquoise and gold tiles, plasterwork, and bricks. Entering through the main entrance, you can see the elegant stucco decorations bearing Qur'an verses and Persian ancient motifs on top of the door, and plaster stalactites (Moqarnas) on both sides.
Inside the bathhouse, the first section was called Sarbineh (a cloakroom to undress and rest); it is an octagonal columned hall laid out around an octagonal fountain pool. This part of the bathhouse, dating back to the Qajarid era, was restored in Zand era in 1778. The ceiling enjoys fascinating intricate and colorful tile works. The Sarbineh opens into the next section – garmkhaneh (hot room) – through a twisted corridor. Garmkhaneh, a four-pillar hall with hot water pools, used to function as the main part of the bath for people to scrub and get a massage.
The canals under the floor (called gorbero) were used for spreading the heat from a subterranean heating chamber outside the bathhouse. In the final bathing process, one had to wash in the hot water pools inside the surrounding chambers (khazineh), its water was changed once every few days. Mostly known for its magnificent roof structure, this glorious bathhouse contains several skylight domes with convex glasses that not only maximize the bath light but also create a surreal view on the top.
Important Information
Additional Info
The bath is open every day except for the national holiday (only the religious mourning days)
You can also go to the roof top and watch the nice view of neighborhood.
Cost Info
Shevid polo (rice with lamb) in Mozaffari Restaurant

-

Rice and Kebab in Mozaffari Restaurant

-

Mosamma Bademjan (eggplant stew with camel meat) in Abbasi Restaurant;

-

Shefteh Somaq (traditional meatballs) in Abbasi Restaurant

-