Saat Tower of Tabriz (Municipality Palace)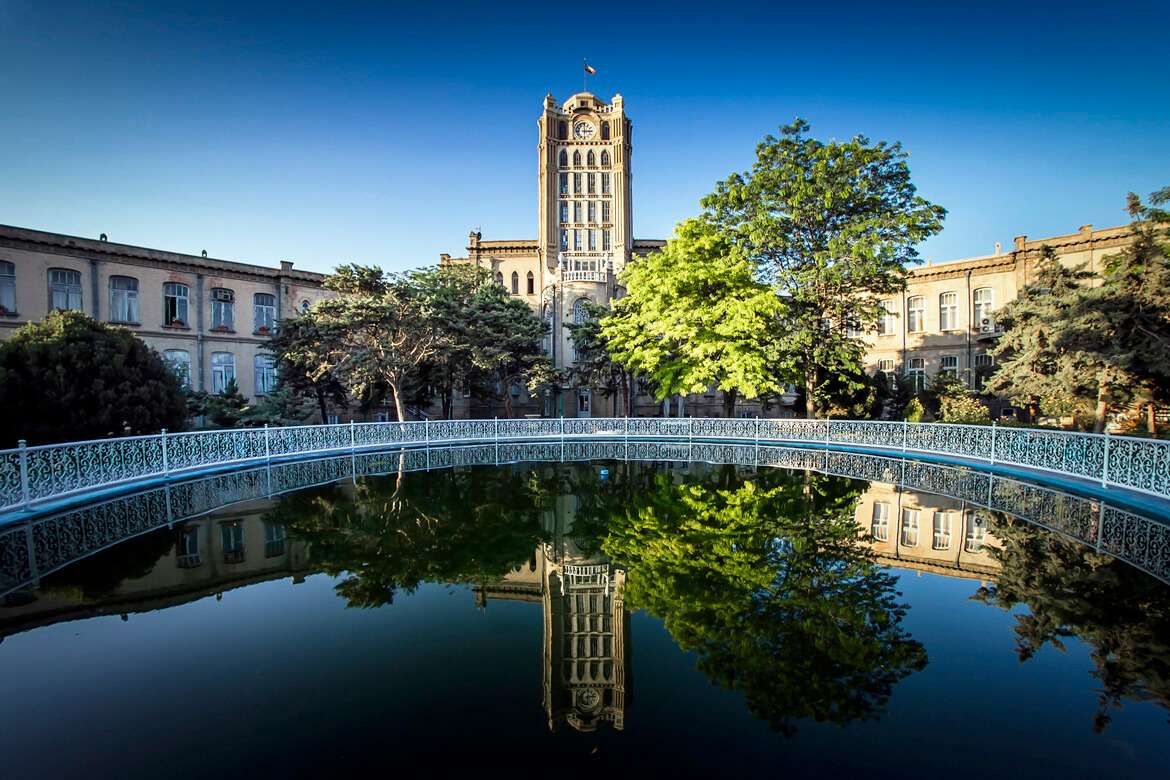 Visiting

Saat Tower of Tabriz (Municipality Palace) in Tabriz

Theme

History and Culture

Code

IRSG114

Duration

1 hr(s)
What To Expect
Visiting a palace built in 1934 which is now home to the museum of Tabriz municipality;
The carpet section of the museum is remarkable.
Photos of the Saat Tower of Tabriz (Municipality Palace)
Explore the Saat Tower of Tabriz (Municipality Palace)
Saat Tower of Tabriz
In 1935, the forlorn cemetery of No'bar neighborhood turned into the construction site of the first Municipality in Iran. The construction of this first municipality occurred by order of Haj Arfa' al-Molk Jalili, the mayor of Tabriz at the time, and under the supervision of German engineers. The building contains a tower including a clock and, for this reason, it is known as the "Clock Edifice" among the people of Tabriz.
The U-shaped building of the Municipality of Tabriz has three floors and occupies an area of 6500 square meters. From above, the edifice looks like a flying eagle, which is in accord with the plan of German buildings before the Second World War. Generally, the walls are of brick, sand, and plaster. The north and east facades are of hewn stone, but the south and west ones are of a mixture of brick and stone. However, all the walls, in four directions, are covered by iron caps. The loftiest decorations used in the building are the carved stones surrounding window-frames and eaves. The edifice also has several entrances, the grandest one is located on the eastern side.
The municipality of Tabriz, apart from its official function, also houses the city council and the first municipality museum in Iran. Commemorating the 100th anniversary of the municipality of Tabriz, officials of the municipality inaugurated the above-mentioned museum in 2007. This museum has several galleries, each one dedicated to a special theme, such as old cameras, Iran-Iraq war, printing facilities, carpets, modern art, calligraphy, and some others. The best gallery which shouldn't be missed is the carpet gallery, contains twelve pieces of carpet ordered by Haj Arfa' al-Molk Jalili.
Important Information
Additional Info
It is open every day (except on Fridays and national holidays)
Visiting the museum is free of charge (at the time of writing).
Cost Info
Coffee in Kolbe Choobi Café

2 €

Kebab in Haj Mohammad Restaurant

3 €

Fruit Juice in Luxe Juice Bar

2 €