A Reviving Day in an Iranian Bathhouse and Modern Sport Complex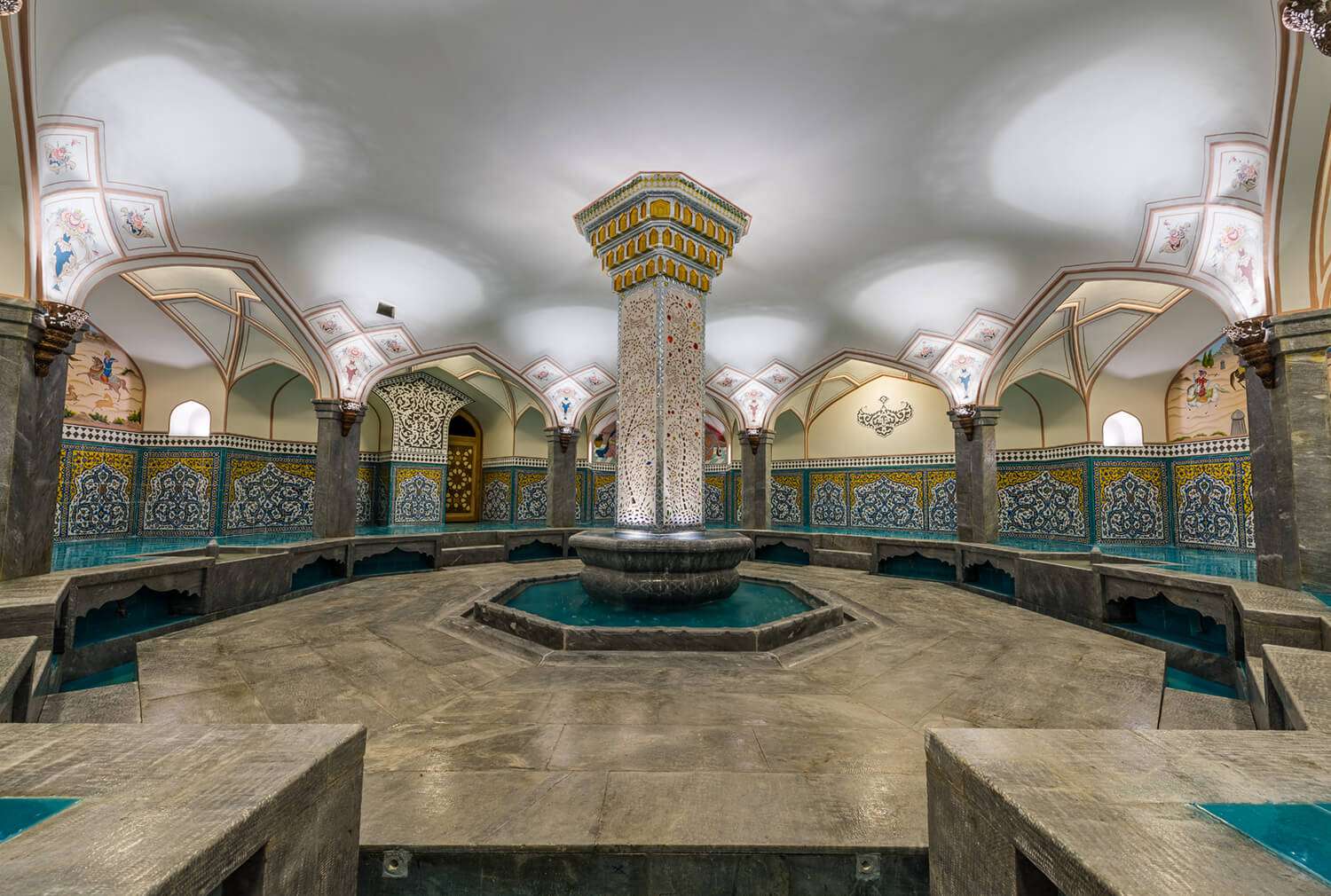 Duration (Hour)

4 to 5 Hours

Visiting Time

Women: 10 Am to 4 Pm | Men: 5 Pm to 11 Pm

Departure Point

At participants' accomodation
Highlights
Becoming familiar with the structure of Persian baths.

Receiving Iranian traditional massage.

A new experience of bathing with materials used in Persian traditional baths.

Having a relaxing and enjoying day in jacuzzi, sauna, gym, outdoor pool, indoor pool and Water-therapy Pool, also enjoying a sunbathe.
Are you thinking of a little bit of

refreshment

after days of travelling?
Traditional Iranian bathhouse (Hammam, Garmaba)
, much similar to its counterpart

Turkish bath

, is one of the cultural and architectural attractions of Iran. Persian bathroom design, with its typical elements, such as: vestibule (Hashti), hot chamber (Sarbine), twisting corridors (rahro), bath (Khazineh) and furnace (Toon), is one of the wonders of Iran. Specially, Persian bathhouse tiles

fix the eyes of each visitor. Furthermore, Persian bathhouse customs are among one of the most pleasing experiences you can have after a long and busy day.

The materials used in traditional Iranian baths include: soap, sefid-ab (white chalk used for peeling), kiseh (thick bag), leef (soft bag), long (pronounced as pong in ping-pong, a piece of cloth traditionally used as towel) and basket. In addition, Persian bath-houses had specific social functions. People used to gather in bath-houses, organize their business deals and chat about their daily lives. Concerning washing the body, Traditional Iranian bathhouses had their own customs. First, the body was foamed and scrubbed by a person called Dallak, whose way of preparing the body for being washed resembles the modern day massage. Then, the bath goers went to Khazineh to wash their body with water. For many years, tourists could do nothing more than going to bathhouses and wonder about their structure. However, today, there are several hammams which are ready to offer special services to foreign tourists and give them an enjoyable experience of bathing in a traditional Iranian bath.

You want to experience swimming, sunbathing, bodybuilding or some team sports like football, volleyball or basketball? Join us in the tour of Sports Complex! This complex includes several swimming pools, dry and wet sauna rooms, hot and cold Jacuzzis, a bodybuilding gym and an indoor sports complex. In addition to all the facilities provided, the professional staff of the complex does their best to provide you with a calm environment in which you can enjoy your free time as much as possible.
What To Expect
We will start the tour by picking you up from your accommodation. Our destined bath-house is a modern reconstruction of Persian traditional hammams in Isfahan. Also it is a complete sport complex. In the bathhhouse, you will go first to sarbineh and would be welcomed by Iranian traditional music and tea in some days. Then your body will be detoxified. To do this in 30 minutes, your body will be covered with sea salt. After some minutes, the moisture on your body will cause the salt to be absorbed. As a result of reactions made by the sea salt, all the negative energy pent up in your body would be released. Then, your body will be scrubbed by kiseh and sefid-ab, replacing the dead cells on the skin with the live ones. After this, you would be massaged with soap foam which helps your body relax. When all these processes are finished and your body is washed with water, all the fatigue you experienced before the bath would be gone and you will be ready for the rest of adventures which are waiting for you during this tour.
For making best use of the complex, you can continue by enjoying other facilities of the complex. In what follows, a brief description of the complex is given to help you make the best use of all the facilities provided in this complex:
Pools
Indoor swimming pool: The Magic of Water
The main pool of the complex, 50 meters long and 5.12 meters wide, provides the best opportunity to enjoy the refreshing sport of swimming or, if you are interested, walking in the water. This pool is equipped with a sand water refinery system which is used together with a specific type of disinfectant, chlorine derived from salt, and ensures the best quality of water for swimming. During the day, the pool is illuminated by natural light. In addition, the pool includes a sunbathing terrace and a buffet, making available all a swimmer may need after a fast and furious round of swimming.
Outdoor Swimming pool: The calmness with a bluish tinge
If you have imagined about swimming under the warm sun of Isfahan, Araman Pool is the best place for you. You can swim in the pool or lie down around it to sunbathe and get an amazing tan!
Water-therapy Pool: The Elixir of youth
The water-therapy pool of the Araman complex, with its water a little warmer than the main pool, is suitable for those who want to walk or do some exercises in the water. The treadmills and bicycles installed in the pool give you the chance to exercise in a state of weightlessness and enjoy all the benefits of these exercises, excluding the harms they may cause you.
Kids pool: The joy of water-splashing
A special pool with a circular form and a depth of 50 cm is designed for kids to pour all their energy out and ruffle the calm water with their waves of happiness.
Sauna and Jacuzzi
Hot and cold saunas and dry and wet saunas are provided for the clients of the Araman complex to refresh their bodies and get ready to continue their adventures in and outside of the Araman complex.
Turkish bath
The Turkish bath in this complex is designed based on Ottoman baths in Turkey. Persian and Turkish traditional baths have almost the same design and function, but with the only difference that in Turkish baths there is a slightly warm stone platform in the middle of the structure. Lying on this warm stone makes the body warmer, so the person sitting on the stone begins to sweat and gets ready for his or her bath. In addition, after what is called Kiseh-keshi, the body is washed with water and soap. The stone bowls around the bath makes the joy of this process double.
The Indoor Sports Complex
The indoor sports complex is a place for team-work. The standard multifunctional saloon of the complex, with a 9 m high roof, is a place to play football, basketball, handball and volleyball.
Now is the time of getting some food or drink. You can enjoy having a fast food or drinking in the coffee shop and the restaurant. At the end, you will be dropped off at your accommodation by a day full of relaxing and enjoying memories.
Important Information
Additional Info
You should bring or buy swimwear and towel.

All Sundays from 10 Am to 10 Pm is only for ladies.

All Fridays from 10 Am to 10 Pm is only for Males.

For ladies the time usually start in morning at 10:00 AM until 4:00 PM.

For ladies, Saturdays are closed.

For males the times usually start at 5:00 PM until 11 PM.

Men and Women cannot be served at the same time according to Islamic laws.

We will arrange the pick up, drop off time.
Cancellation Policy
Bookings missed or cancelled within determined hours will incur a strike against participants as below charges:

Before 48 hrs: 25%

Before 24 hrs: 50%

Within 24 hrs: non-refundable