Free Visiting of Top Attractions Around Naqshe Jahan Square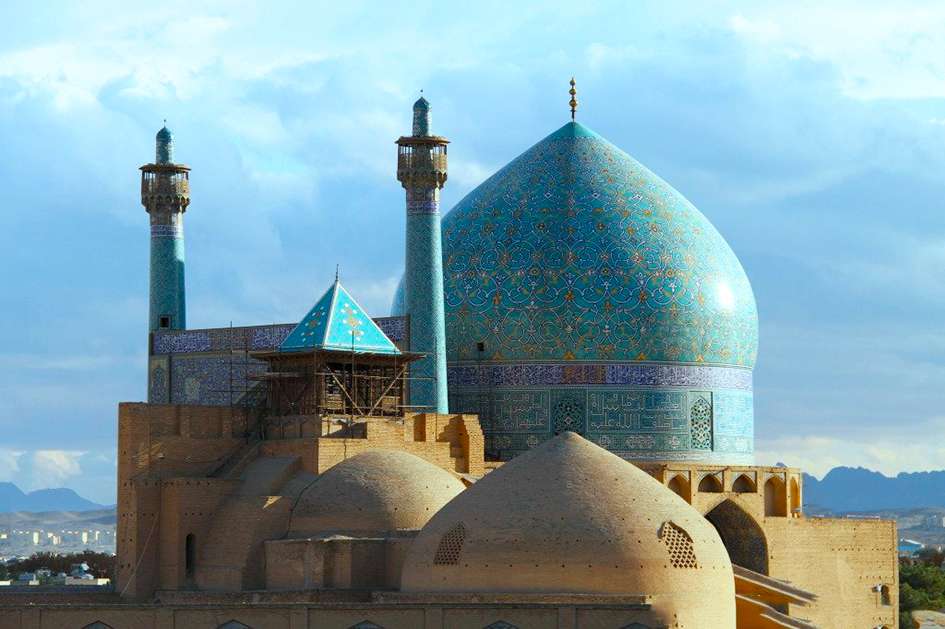 Duration (Hour)

2 hrs

Visiting Time

3 Pm

Departure Point

At tourists' accomodation | at the entrance to the subway station of Imam Hossein Square(Darvazeh Dolat)
Highlights
Visiting the old neighborhoods behind the Naqsh-e Jahan square,

Visiting and getting familiar with the handicrafts produced and sold in Isfahan,

Getting familiar with the structure and different parts of the Qeysarieh Bazaar of Isfahan,

Visiting the unique Hakim Mosque and Jorjir Portal and the monuments around it.
Tour Packages
Availabilities
Group Size And Pricing
Tour language
Inclusions

Tour Guide
Exclusions

Food and Drink

tips
Isfahan, as the second city of handicrafts in the world with several UNESCO-listed sites and the capital of several Iranian dynasties, such as Deylamids, Saljuqs and Safavids, is surely a city of mysteries, replete with hidden gems waiting to be discovered and explored. Here, we have organized a free walking tour of the Safavid, UNESCO-listed Naqsh-e Jahan Square (Imam Square) to tell you stories you can't hear on your normal tours to the square. Naqsh-e Jahan Square, the second largest square in the world after China's Tian an men, includes great monuments from the Safavid period, but it is bordered by a whole number of neighborhoods, monuments and shops whose tales our expert tourist guide is going to tell you. Don't miss this free walking tour!
What To Expect
Visiting top attractions around Naqshe Jahan Square
Free walking tours may be of great value for tourists who are exploring new lands far removed from environments of their everyday interaction. In the free walking tour of Naqsh-e Jahan Square, we first take you to the old alleys behind the Shah (Imam) Mosque. These narrow alleys are commonly known as Ashti-konan alley. Why? Our guide will tell you the reason. In addition, you can have a different view of the Shah (Imam) Mosque.
Then, we move toward the Charsooq-e Maqsood (Maqsood Crossroad). This crossroad still holds its name from the Safavid period and you will hear its story on the tour. Afterwards, we move along the stores at the eastern side of the Naqsh-e Jahan Square. On our way, we will visit Sarai Espadana which holds several handicraft shops, some unique antique shops, a traditional restaurant and a number of different coffee-shops.
Again, we will come back and continue our way to Qeysarieh Bazaar. In the bazaar, we will visit Shah Caravanserai and Sarai Chitsazha (those who make printed Cotton). Next, we spend sometime in the Bazaar-e Zargarha (Goldsmiths Bazaar) and end up in Timch-e Malek, which is a unique piece of architecture and its visit is a must. Later, we will come back to the main bazaar (grand bazaar of Isfahan) and head toward the bazaar-e Hakim. On our way, if possible, we will visit Hammame Jarchi-bashi (Jarchi-bashi Bath), which is a monument left from the Safavid era, representing splendid decorations dating back to the mentioned period. At the end of this Bazaar, there is a mosque in which we will finish our free walking tour. The mosque is called Hakim Mosques (also known as Jorjir among Isfahanian people) which is a work of art from the period of the Safavid king, Shah Abbas II. The mosque also holds a portal (Jorjir portal) which is a real work of art from the Deylamid period.
Important Information
Additional Info
Those who want to be picked up at their accomodation will be charged 1 euro per person
Cancellation Policy
Bookings missed or cancelled within determined hours will incur a strike against participants as below charges:

Before 72 hrs : 25%

Before 48 hrs: 50 %

Before 24 hrs: 70 %

Within 24 hrs: non-refundable