Vakil Bath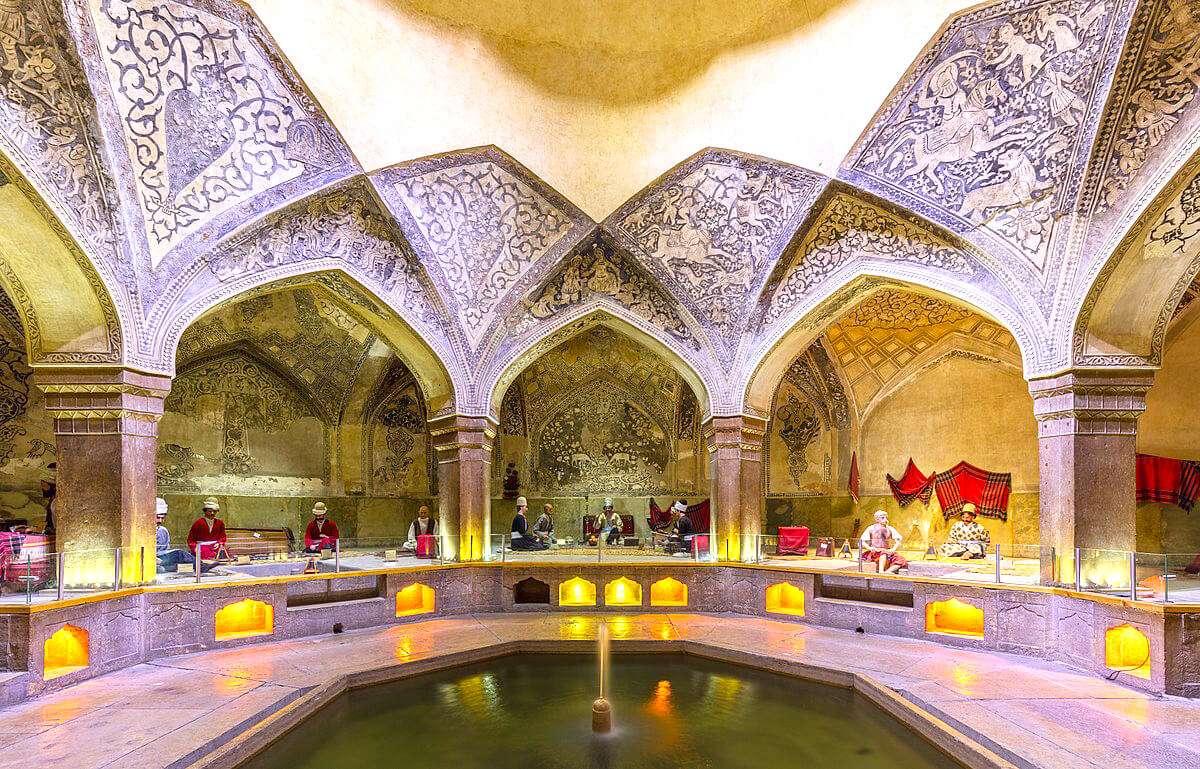 Visiting

Vakil Bath in Shiraz

Theme

History and Culture

Code

IRSG79

Duration

30 mins
What To Expect
Visiting the 18th century bathhouse in the Vakīl Complex.
Explore the Vakil Bath
Vakil Bath

Vakil bathhouse, with an area of 1,350 sq. m is one of the largest traditional bathhouses in Iran built by Karim Khan Zand, the "Vakil" (1751-79). The bathhouse was in use until 90 years ago, then it was changed into a traditional gymnasium for a while and then to a historical monument.
The structure is mainly built of brick, gypsum mortar and stone. The entrance portal on the north of the bathroom is a low doorway connecting to an anteroom with a slight slope. This technique along with the angled entrance of the rooms were brilliantly applied to trap the heat inside.
The anteroom, decorated with arabesque patterns, leads to a chamber which used to be a dressing hall. This octagonal room holds eight monolithic stone columns supporting the vault. The walls are decorated with stucco molding in floral and geometric patterns. There is a big pool in the middle and the empty spaces around it were used to hold shoes.
A corridor where the latrines are situated connects the dressing hall to the heat room. It used to be a place for those who had taken a bath and wanted to rest. The central heat room is based on a square plan ground with four columns in solid rock topped by a canopy of vaults. Hot water canals passed under the floor covered with stones. The dados are in green marble plates imported from Tabriz. There are two deep niches with a large stone pool in front of them which were used by nobilities. Particularly remarkable are the plaster designs created in the Qajarid era (1785 to 1925) over the Zand designs.
The wax figures and the sound of the sweet accent spoken by people in Shiraz portray different procedures of bathing in the Zand era. The bathrooms were not places used merely for cleaning, but different ceremonies were also held there. You can feel a real ceremony held in public baths, by visiting a room which was dedicated to 'Henna Bandan'. This ceremony was one part of an Iranian traditional wedding ceremony where the relatives put Henna on bride's hands as a symbol of joy and fortune.
Important Information
Additional Info
The bathhouse is open every day except on national holidays (religious mourning days), from 7:30 AM to 8:00 PM (during spring and summer), and from 8:00 AM to 7:00 PM (during autumn and winter)
The wax figures in the bathhouse represent the function of each section.
Cost Info
Shah Abbasi Kabab in Sharzeh Restaurant

6.5 €

Kalam-polo in Sharzeh Restaurant

-

Lamb neck and rice in Kateh Mas Restaurant

4.5 €

Chelo Kufteh Shirazi (rice and meatballs) in Vakil Restaurant

2.5 €

Tea and cake in Joulep Café

-