Khwaju Kermani Tomb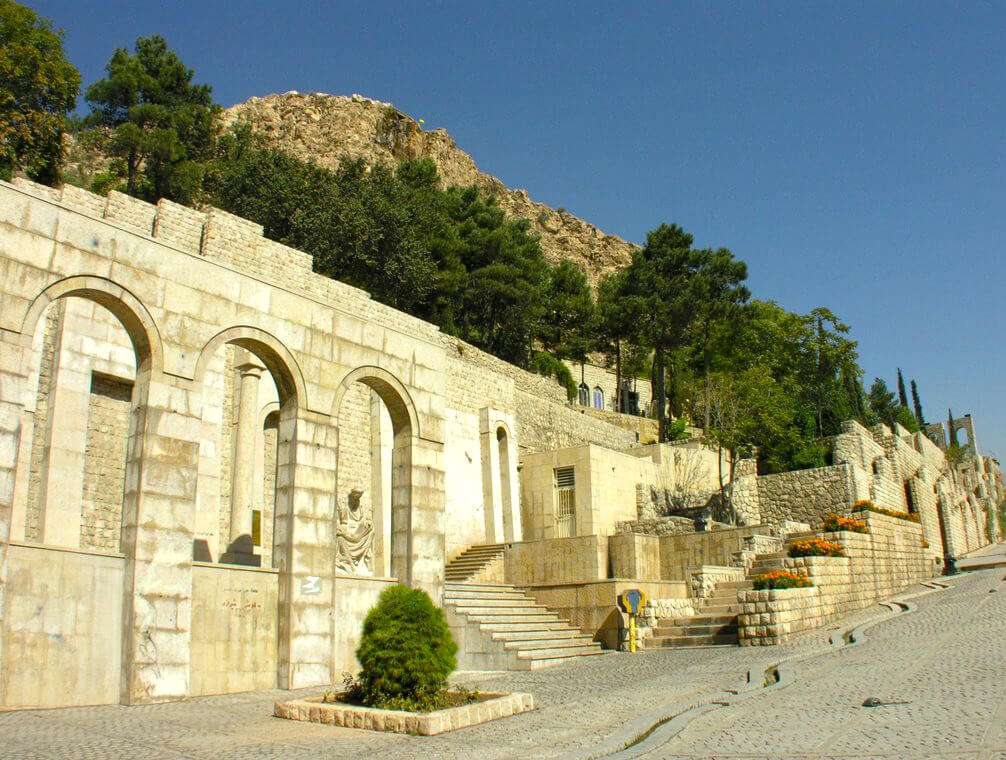 Visiting

Khwaju Kermani Tomb in Shiraz

Theme

History and Culture/ Spiritual

Code

IRSG76

Duration

30 mins
What To Expect
Exploring the tomb of Khaju Kermani, the 14th-century Iranian poet, and mystic. The tomb is built on the foothills of the Sabuy mountain located in the northern edge of Shiraz.
Explore the Khwaju Kermani Tomb
Khwaju Kermani Tomb
Khājū Kermāni, a well-known 14th-century poet from the city of Kerman (located in the south of Fārs Province), who left his hometown to travel to cities of the Islamic world and finally settled in Shiraz. It is said that he kept the company of many notable figures in Shiraz such as Hāfez and Ubayd Zākāni.
Located on the slope of Sabuy hill in the north of Shiraz, the tomb was built by the General Bureau of Archeology before the Islamic revolution, and underwent renovation after it. Its structure overlooks the Qurān Gate and is reached by a stone stairway. On the first level, there is a white stone structure like an open veranda (ayvān) fronted by a corbelled arch and three pillars in the middle. A statue of Khajoo Kermani carved out of stone and a wall inscription of his poems are the other features of this veranda. The stairway on the upper level leads visitors to an unroofed space laid out around the grave of the poet. The round gravestone, enclosed by a glass box, has no inscription and lacks information concerning the owner of the grave. It only bears a verse from Quran: "All that is on earth will perish: But will abide (forever) the Face of thy Lord, - full of Majesty, Bounty and Honor". Two short pillars situated below and above the gravestone are the other notable characteristics of the tomb, representing a custom practiced in the construction of the tombs of mystics and poets.
On the upper levels, there are three caves in one of which Khwaju Kermani used to worship. This cave is now being used as a souvenir shop. At the entrance to the other cave, there is a jack arch of brick and stone. Here is the burial place of Emād al-din Mahmoud, the minister of Shāh Abu Eshāq Injoo. Beside this cave, there are two stone bas-reliefs; one displaying a scene from the battle between Rostam (a Persian mythological hero) and a lion, and the other, although half-completed, portraying Fathali Shah (a Qajarid king) and his two sons. There is also a carved stone plate inscribed with the biography of Khajoo Kermani and excerpts of his poems. Nowadays, the tomb neighbors a park also called Khajoo Kermani, which is considered as one of the most important parks of Shiraz.
Important Information
Additional Info
Visiting the tomb is free of charge
It is open every day 24 hrs
Watch the panoramic view of Shiraz from the uphill
There is a kiosk on the site selling junk food and beverages.
Cost Info
Tahchin (Rice, lamb, eggplant) in Haft-Khan Restaurant

7 €

Shishlik kebab in Shandiz Restaurant

9 €

Aash-e Sabzi

-