Ali Gholi Agha Complex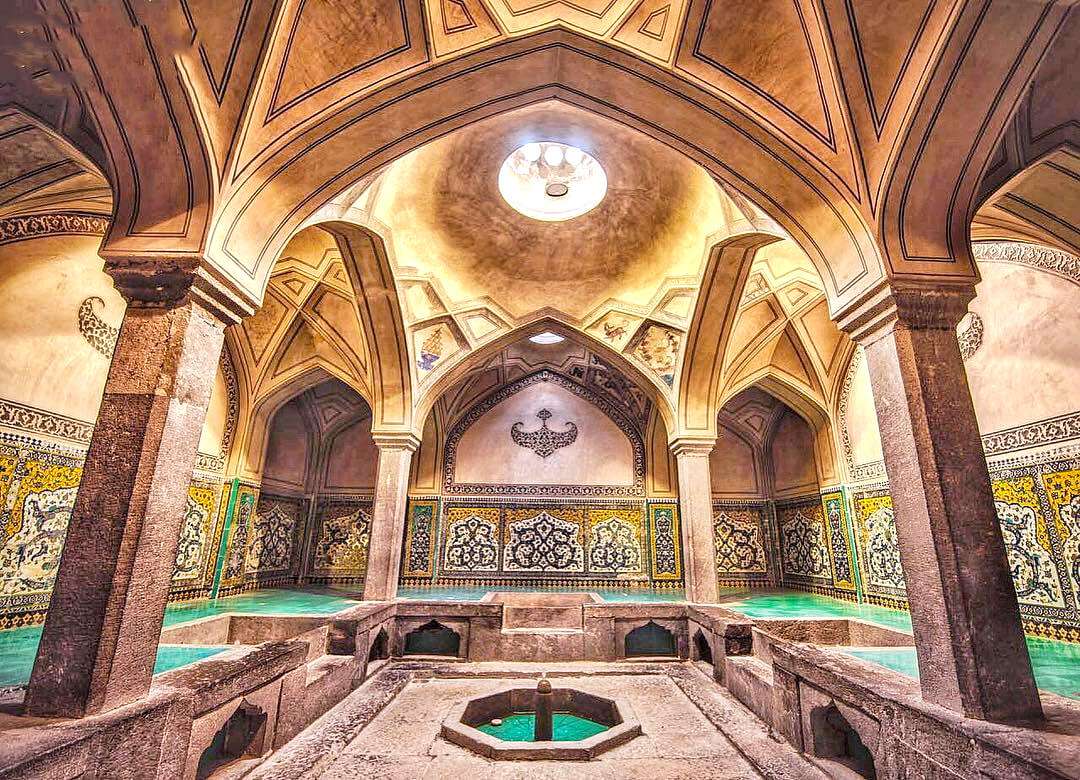 Visiting

Ali Gholi Agha Complex in Isfahan

Theme

History and Culture/ Other

Code

IRSG36

Duration

1 hr(s)
What To Expect
Exploring the historical complex consisting of a bathhouse, a mosque and a bazaar dating back to the Safavid era (310 years ago).
Visiting Time
Spring

8:30 -13:30

14:30-17:00

Summer

8:30 -13:30

14:30-17:00

Autumn

8:30 -13:30

14:30-17:00

Winter

8:30 -13:30

14:30-17:00
* Best Time
Photos of the Ali Gholi Agha Complex
Explore the Ali Gholi Agha Complex
Ali Gholi Agha Hammam

Here, Ayatollah Bid-abadi Street is the point of interest for us. Since years ago, this part of Isfahan was covered with bid (or willow trees), and so the appellation: Bīd-ābād.
It is recorded by Hamze Isfahani, the 10th-century historian of Isfahan, that Isfahan had four gates at that time and one of them, Mah (the moon) or Asfish, was located in Bid-Abad neighborhood.
However, the neighborhood of Bid-abad formed a marginal part of the city for centuries. During the reign of Safavids, Ali-Qoli Aqa, who served both Shah Suleiman I and Shah Sultan Husayn, breathed a new life in the withered veins of Bid-abad. He built a number of buildings, for the common use of all people, which we are going to visit soon.
Well! After this brief history of Bid-Abad, it is time to take the first steps and delve into the beauty of this neighborhood. At the entrance of Bid-Abad, to your right, a small stream, Baba Hasan (father Hasan), shows off itself. Baba Hasan stream, in the days when passionate, dry lips of the city were soothed by the water from big streams (locally called madi), branched off from one of the main madis, madi-ye Fadan, and still lingers there. So, you can hold the hands of Baba Hasan, a humble, all-giving guide, and visit Bid-Abad under the shadow of willow trees, stretching their branches down to earth and bowing to those who tread the memories buried at their foot.
As you go along the stream, you will reach the complex of buildings built by Ali-Qoli Aqa.
Highlights
Ali-Qoli Aqa Mosque

Ali-Qoli Aqa Bathhouse

Ali-Qoli Aqa Bazaar and Chahar-Suq
Ali-Qoli Aqa Mosque
This mosque has a small court and a majestic Shabestan (prayer hall) which is decorated by gireh-tiles. An Arabic script in Sols on marble stone encircles the interior of the portal. This inscription reveals the names of Ali-Qoli Aqa and Ali Naqi Imāmi, the well-known Safavid calligrapher, and also the construction date of 1710 at its end. The entrance portal to the prayer hall also has a fine inscription in Nastaliq script on dark blue tiles which give the construction date of 1880. It also gives the name of Ghazi Abol-Ghasem as the donator who paid for the building of the prayer hall. The poet of the lines on the tiles was Yahya, its calligrapher was Abdol-Javad and its architect was Mohammad-Ismail.
Ali-Qoli Aqa Bathhouse
Ali-Qoli Aqa bath-house has a twin structure, one part for men and the other for women. It has several different parts such as Hashti, entrance, Sar-bineh, Garm-khane, Khazineh, and shah-neshin. But, what makes this bath-house unique is its decorations, the tiles, and paintings which are unique among the bath-houses of Iran. It was built in 1709.
Ali-Qoli Aqa Bazaar and Chahar-Suq
Ali-Qoli Aqa built two bazaars, crossing each other and forming a beautiful Chahar-suq in this complex. His motivation was to dedicate the benefits earned from the bazaar to preserve the mosque he had built.
Important Information
Additional Info
The Ali Gholi Agha bathhouse is open every day from 9:00 AM to 7:00 PM. On Fridays and national holidays, the bathhouse is open from 9:00 AM to 1:00 PM
The bathhouse is closed on Wednesdays, religious mourning days (such as Ashura and Tasu'a), religious and national holidays and 22nd of Bahman (February 11th, the Anniversary of the Islamic Revolution)
Visiting Ali Gholi Agha mosque is free of charge, but it is only open during the prayer hours.
Cost Info
Kebab in Azam Restaurant

-

Beryani in Azam Restaurant

3.5 €
Destination

Transportation Type

Transportation Fee

---