Rokn al-Molk Mosque and School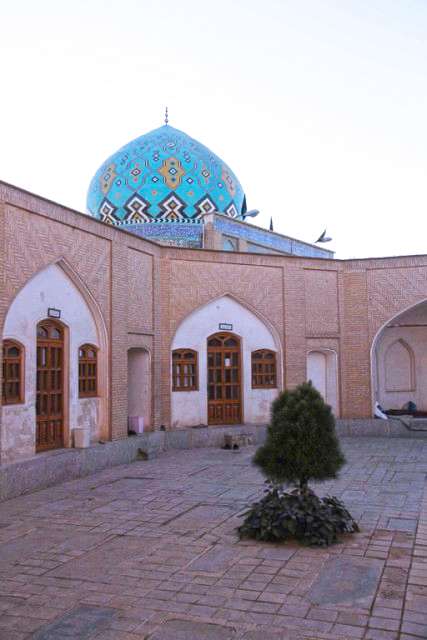 Visiting

Rokn al-Molk Mosque and School in Isfahan

Theme

History and Culture

Code

IRSG34

Duration

1 hr(s)

Tell

031-36611919
What To Expect
Visiting the 20th-century mosque and school adjacent to the historical cemetery of Takht-e Foulad.
Explore the Rokn al-Molk Mosque and School
Rokn al-Molk Mosque and School
The 20th-century mosque of Rokn al-Molk is located on the edge of the historical cemetery of Takht-e Foulad. It dates back to the reign of Mozaffar al-Din Shah Qajar and it is commissioned by Rokn al-Molk, the vice-governor of Zell al-Soltan. It is recorded that the construction of the mosque had been started in 1901, and finished in 1906. The mosque also comprises the resting place of Rokn al-Molk and a cistern.
The mosque is mostly distinguished by its exquisite tiles with the patterns of birds and flowers and the use of pink color, drawing a line of similarity with Nasir al-Molk Mosque in Shiraz. Two tile portraits of Rokn al-Molk are placed on either side of the entrance. The mosque also features exquisite Sols and Nasta'liq calligraphies of Persian poems and Qur'anic scripts on tiled decorations. Included among them are Rokn al-Molk's own poems, written around the courtyard. These intricate calligraphies were written by the best-known artists of the time, indicating the passion of the Qajarid political figures for art and literature. The latest major renovations of the mosque and its school were done about 20 years ago.
Important Information
Additional Info
The mosque is open during the prayer times.
Cost Info
Breakfast in Niavaran Restaurant

-

Steak Roll in Nikan Restaurant

-
Destination

Transportation Type

Transportation Fee

---