Seyyed Mosque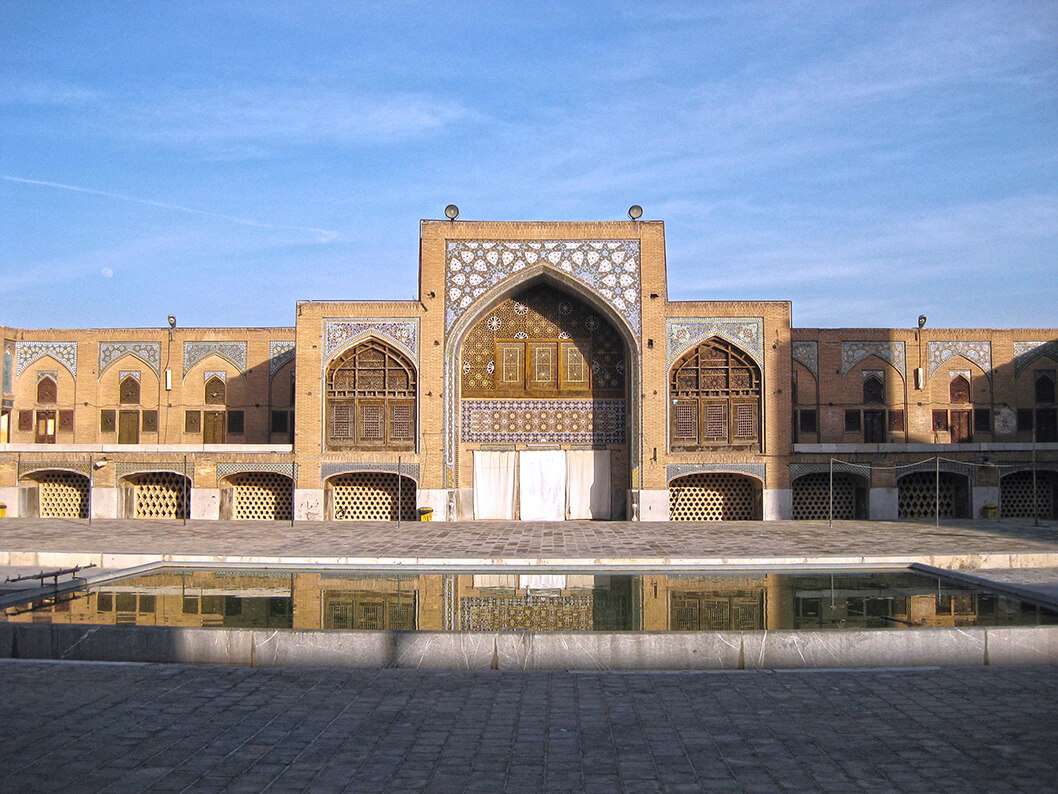 Visiting

Seyyed Mosque in Isfahan

Theme

History and Culture

Code

IRSG32

Duration

30 mins
What To Expect
Visiting the magnificent 19th century mosque that is one of the masterpieces of Qajar era in Isfahan.
Explore the Seyyed Mosque
Seyyed Mosque (Masjed Seyed)
Seyyed mosque, a 19th –century religious building with an area of 8075 square meters, is located on a street with the same name. Historical accounts maintain that the land of the mosque was bought in the Safavid era, during the reign of Shah Sultan Hossein, but its construction was kept on hold because of the Afghans' invasion. Later, during the reign of Mohammad Shah Qajar, the mosque was commissioned by Hojjat al-eslam Shafti, a Qajarid wealthy religious figure. The construction started in 1825 and the whole process of constructing and decorating took 130 years. This is the fourth congregational mosque and the most spacious Qajarid religious building in Isfahan. It largely benefited from the flourishing architectural style of the Safavid period and the exemplary decorative art of the Qajarids. One of the most important differences between this mosque and other mosques of Isfahan is its double function as a mosque and a school at the same time. In other mosques, like Jame Abbasi mosque, the school is a separate area adjacent to the building. However, in the Seyed mosque no separate space was considered for the education of students; therefore, the architecture of the building is designed in a way to accommodate the students, for example, vertical sash windows, which are more common in the houses, are applied here to create a proper space for students.
The most spectacular part of the mosque is in its southern side; it is topped by a clock tower and consists of two columned prayer halls (shabestan) and an altar (mihrab) decorated with an eye-catching tile art. The tiles are illustrated with floral patterns and images of landscapes similar to images depicted by European masters. This Qajarid tilework is very similar to that of Nasir al-Molk Mosque in Shiraz. Some parts of the tilework were ruined during Iran-Iraq war (1980-1988) but underwent renovation later. This mosque has four entrances and the main entrance is from its northern side. The outstanding feature of the portal is the pattern of peacocks symbolizing the guidance.
There are other noteworthy structures in Seyed Mosque such as the teaching hall of Hojjat al-Eslam Shafti, which is a columned hall resembling Chehelsotun, and his resting place on the north-east of the mosque.
Important Information
Additional Info
The best time to visit the mosque is about one hour before daily prayer times, especially before midday prayer, since the eastern prayer hall is open during this time
As the mourning ceremonies are usually held in the mosque on weekends, it is better not to go there during weekends.
Cost Info
Beryan in Azam Beryani

2 €
Destination

Transportation Type

Transportation Fee

---