Ali Sadr Cave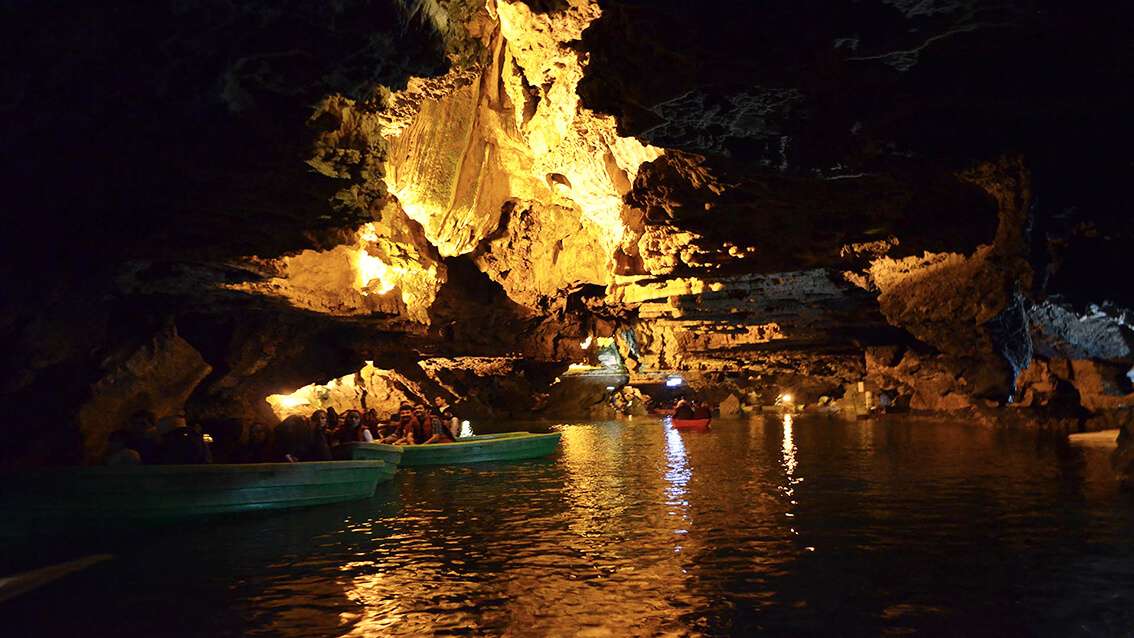 Visiting

Ali Sadr Cave in Kabudarahang

Theme

Nature & Adventure

Code

IRSG267

Duration

2 hr(s)
What To Expect
Browsing the river cave system of Ali Sadr located some 75 km north of Hamadan. It consists of water channels, several chambers, and beautiful rock formations.
Photos of the Ali Sadr Cave
Explore the Ali Sadr Cave
Ali Sadr Cave
The UNESCO tentative listed Ali Sadr Cave as a world natural heritage. It is 75 km away from Hamadan and brings awe and astonishment to whoever cast his eyes on it. This outstanding cave system, discovered by a group of mountaineers in 1963, grants you access to the longest subterranean water caves in the world. Formed during the second geological era (about 190 million years ago), this astonishing cave is carved out by various water springs near the cave. The eye-catching rock formations of the cave are created by the deposition of pure calcium carbonate during several long years. The labyrinthine network of channels inside the cave leads to several halls and chambers with their walls and ceilings covered with stalactites. In some sections, where there is no water, you can see beautiful stalagmites on the ground.
As you enter the cave, there is a short walking path which takes to the water. Then, to continue your subterranean adventure, you have to get on one of the boats available there. During your journey, you will pass through various unbelievable paths with a stable air and water flow. The height of the ceiling reaches up to 10 meters in some points. In the middle of the cave, there is a large pool, about 5-meters deep, which multiplies the beauty of your surrounding space with the calmness of its cold and clear water. The water level fluctuates during the year, as its different traces are marked on the walls. Interestingly, there is no fauna inside the cave. In several parts, the rock formations take special forms, for example, an inscription of the name of God in Arabic transcription (Allah).
So far, only about 14 km of the total area of the cavern is discovered, nevertheless, it attracts thousands of visitors from all over the world every year.
Important Information
Additional Info
It is open from 8:00 AM to 7:00 PM (during spring and summer), and from 9:00 AM to 3:00 PM (during autumn and winter)
The site is crowded with the local visitors on the weekends, especially during spring and summer
There are two paths in the cave (the new path and the old path). You need to choose one of them before buying a ticket
Please Note: Only photography with the flash turned off is permitted in the cave
Smoking is forbidden inside the cave
Inside the cave, the temperature is about 14 centigrades.
Cost Info
Kabab in Anadana Traditional Restaurant

-

Kabab in Ariaei Restaurant

-
Things To Do In Kabudarahang