The Valley of Jens (Kal-e Jen)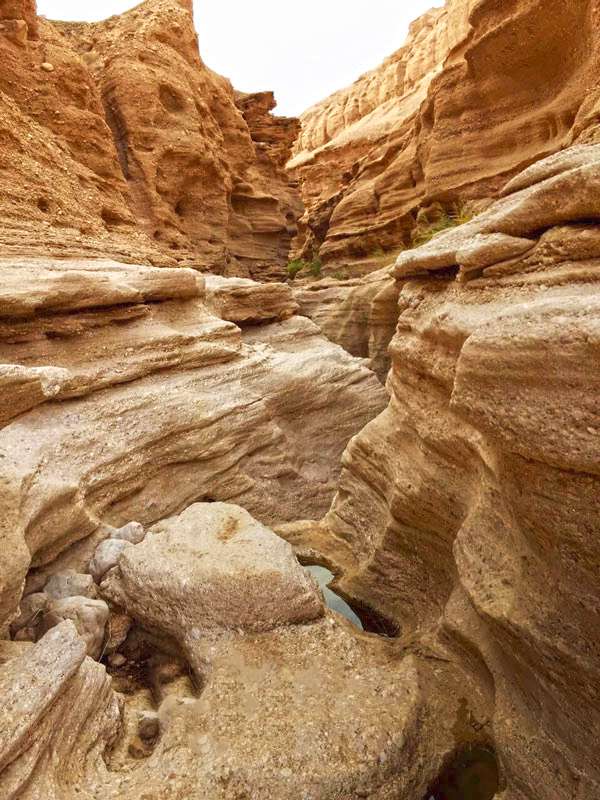 Visiting

The Valley of Jens (Kal-e Jen) in Tabas

Theme

Nature & Adventure/ Spiritual

Code

IRSG2134

Duration

24 hr(s)
What To Expect
Exploring a dreadful canyon known as the Valley of Ghosts in Tabas.
Explore the The Valley of Jens (Kal-e Jen)
The Valley of Jens (Kal-e Jen)
"Kāl-e Jen" or " the Valley of Jen" is the name given to a mysterious valley near the village "Azmighan," to the north of Tabas, Khorasan-e Jonoobi. "Kāl" is the name given to pathways created by water attrition and "Jen" functions as a descriptive title added to Kal by local people.
But why the descriptive title, "Jen"? Experts believe that the uncanny, frightening formations of the valley are the main reason to attract this spooky title. Local people have many horror stories to tell about this valley, all inspired by its bewitching appearance. Dark crypts, incongruent shapes, windy paths and the sky hidden behind the towering walls of the valley all contribute to human imagination going wild and creating out-of-ordinary tales.
"People know here as the house of Jens. Some elders remember a time when the news was spread about Jens kidnapping beautiful girls of the village. From that time, no pregnant woman is allowed to enter the valley. Furthermore, all the mal-formed babies born in the village are considered to poor victims of tricks played on them by Jens. All in all, no one, under no condition, should step into this land." But, if you are into this kind of adventures, you can go there and have a look at the valley.
Important Information
Additional Info
Due to hot days of the desert, spring and autumn are the perfect seasons for exploring Kal-e Jen canyon
The Kal-e Jen canyon has tall sloppy walls and arches that can be dangerous to climb
In order to reach to the depth of the Kal-e Jen, you need to be familiar with the area so it is recommended to hire a local guide and never go alone even you do not believe in ghosts and spirits. Also as the path in the valley is not steady in some parts it is better to wear convenient shoes
In the middle of the valley there are some water ponds called "Shellens" by local people which can be a refreshing spot for those who want to swim in the water and escape the warmth of the desert
Golshan Garden of Tabas is the other attraction around the mysterious Kal-e Jen that you can have a visit.