Malek Timcheh (Timcheh Malek)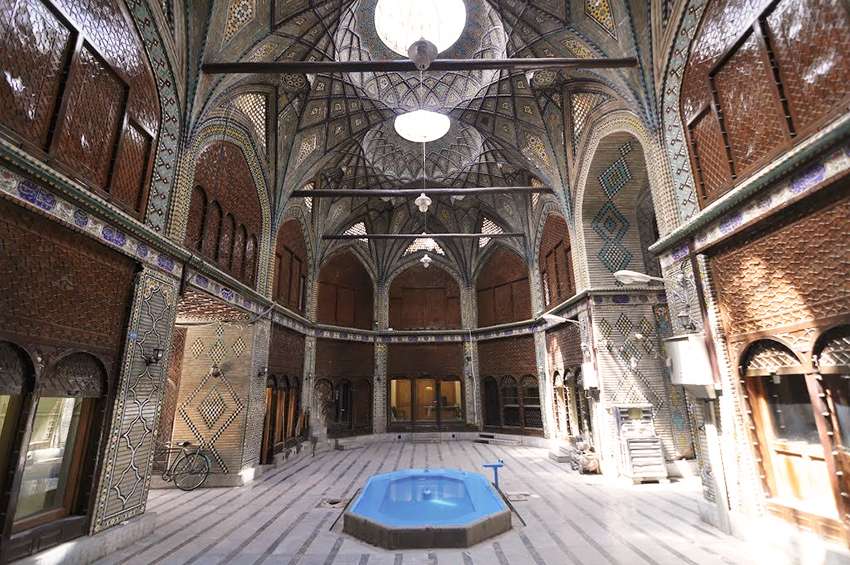 Visiting

Malek Timcheh (Timcheh Malek) in Isfahan

Theme

History and Culture

Code

IRSG16

Duration

30 mins
What To Expect
Visiting the 113-year-old domed hall, surrounded by shops dedicated to big businesses, in the middle of the bazaar.
Explore the Malek Timcheh (Timcheh Malek)
Malek Timcheh (Timcheh Malek)
Timche, a small arcaded courtyard, is a Persian word meaning a roofed, commercial space in Bazaar, dedicated to a single type of business. Timche is of different types, based on its plan and the number of floors. Malek Timche is a two-storied roofed area built by Ibrahim Malek al Tojjar, a well-known Qajarid Merchant in 1904. Ibrahim Malek al Tojjar was a well-known philanthropist and sponsored the construction and restoration of several mosques and historical buildings in his time.
This construction consists of three main parts: timche, saray, and baharband (summer open spaces). You will first enter the main part, which is a two-storey structure with an octagonal-shaped plan. This part holds a pool and ten shops, decorated with three-door sash windows connected to the bazaar through an eastern corridor. The businessmen settled here according to their rank; the superior businessmen were on the first floor, the lower-level ones were on the second floor and, finally, the least prominent ones were in the barnyard. Also, Timche Malek used to lodge the Saadat library, and that is what made this timche different from the others. The library was filled with books, proving once again the important role of businessmen in provoking social and political ideas. This timche is not usually filled with people and you can sit next to the pool and keep quiet for a while.
Important Information
Additional Info
Timcheh is closed on Fridays and national holidays ( religious mourning days ).
Cost Info
Traditional saffron ice creams around the square

2 €

Persian tea in Rozegar Teahouse

2 €

Dough (yoghurt drink) and Gooshfil (a kind of sweet) in Rozegar Teahouse

3 €

Beryani in Naqsh-e Jahan Restaurant

4 €

Gaz (a traditional sweet of Isfahan)

5 €
Destination

Transportation Type

Transportation Fee

---