Masjed al-Nabi (Masjed Shah)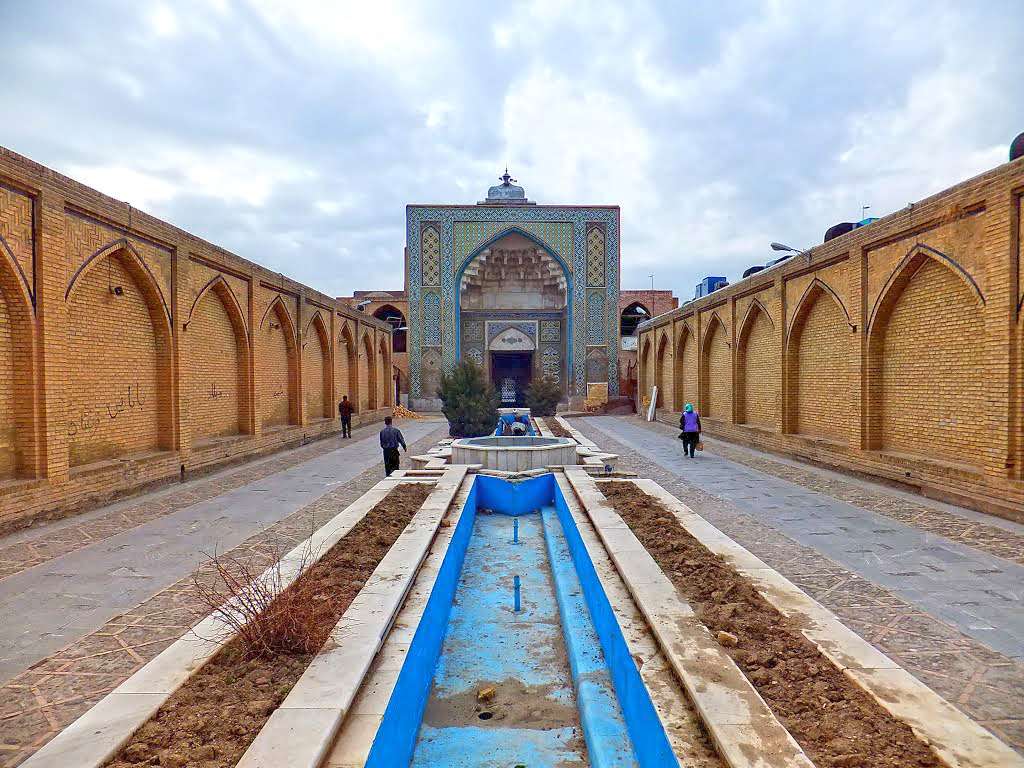 Visiting

Masjed al-Nabi (Masjed Shah) in Qazvin

Theme

History and Culture

Code

IRSG1077

Duration

30 mins
What To Expect
Watching the spacious Qajarid mosque near Saray-e Saʻd al-Saltaneh, which was built in the time of Fath Ali Shah Qajar (1797-1834).
Explore the Masjed al-Nabi (Masjed Shah)
Masjed al-Nabi
Also called Masjed Shah and Masjed Sultani, this Qajarid mosque, covering an area of 14000 square meters, is one of the largest mosques in Iran. It dates back to the time of Fath Ali Shah (1797-1834) when many religious structures were built around the country. It is erected on a piece of land bequeathed by Aqa Jamal Vazir, an affluent figure of Qazvin in Safavid era.
Along with its main entrance on the north of the building, on Imam Street, the mosque also has entrances on its eastern and western sides. Its soaring portal is finely adorned with blue tiles and stalactite decorations with a lazuli tiled inscription pointing out the year 1788. The striking features of the mosque are a number of brick and tile decorations and rich inscriptions in Sols and Nastaʻliq calligraphies on the façade.
The entrance opens to a vestibule which leads to a spacious courtyard. The structure of the mosque follows the Iranian four-porch plan (Chahar ayvan); that is, the mosque is encircled with porches (ravaq) on four sides. The courtyard contains ten arches with wooden sash doors on the north and south sides and eighteen arches on the east and west. The southern ayvan is centered with a 15*14-meter sanctuary topped with a lofty double-shelled dome. The interior dome reaches the height of 20 meters at its highest point from the ground. The internal part of the dome is adorned masterfully with brick-work and geometric designs.
The prayer niche in the southern side of the sanctuary has a marble dado, and is decorated with blue tiles. Covering an area of 210 meters, the sanctuary is flanked by two prayer halls.
On the east, there is a 16-columned basement hall connected to the courtyard through an underground corridor. This basement served as the original prayer hall of the mosque but is being used as a library in the recent years. The eastern entrance of the mosque opens to a pathway leading to Saʻd al-Saltaneh bazaar.
There is an entrance in the western prayer hall of the mosque, opening to a cistern known as Ab Anbar-e Zananeh Bazaar (women's cistern). A 43-step stairway leads to the water reservoir, with the capacity of 2350 liters, crowned by five wind towers. It is the biggest cistern in the bazaar of Qazvin, and is commissioned by Haj Molla Abd al-Vahab, one of the well-known clergies of Qazvin in Qajar era.
Important Information
Additional Info
Visiting the mosque is free of charge.
Cost Info
Gheime nesar eqbali restaurant

3 €

Coffe and homemde cake in negarossaltaneh café

2.5 €