Top Places You Must Visit in Shiraz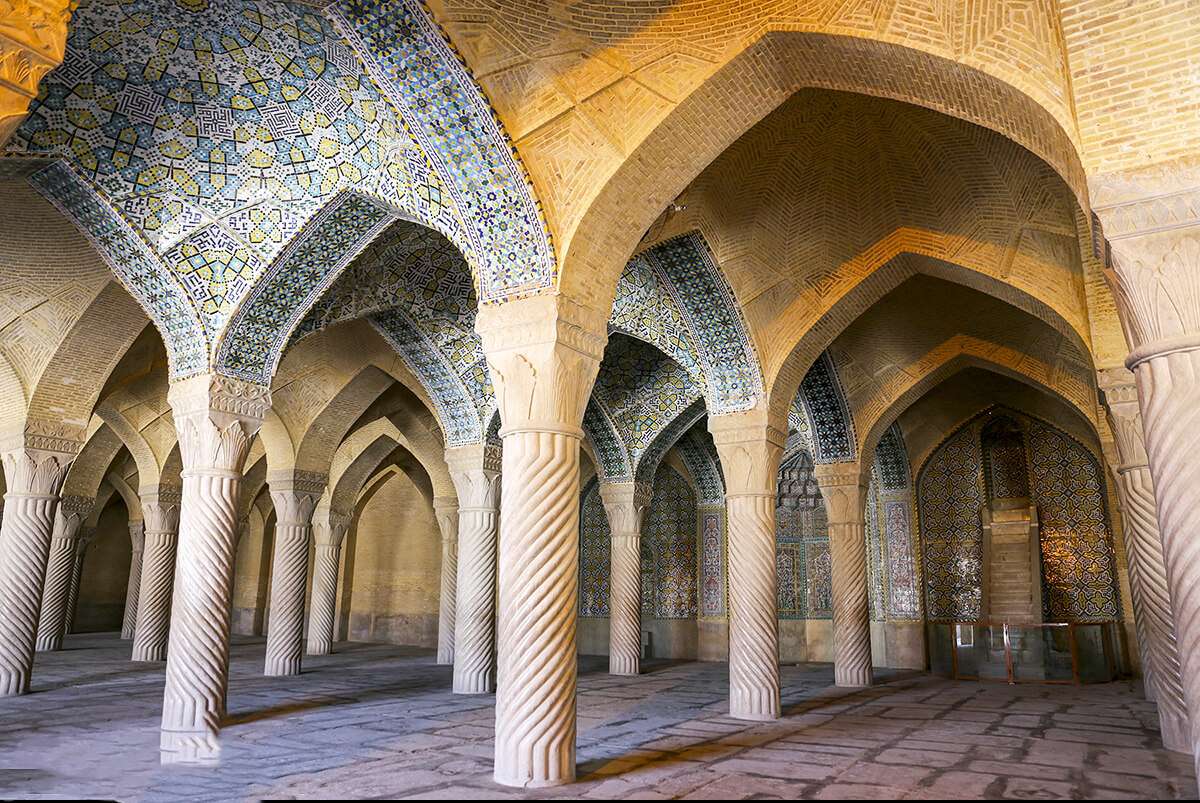 Theme

Architecture/ Religious and Epic/ Eastern Bazaar

Code

IRRS4

Duration

4 hr(s) and 45 min(s)

Best Time

SPRING | AUTUMN
What To Expect
The historical context of the city boasts many other attractions worthy of visit:
- Atiq Jame Mosque (the oldest mosque of Shiraz erected during the 9th century);
- Khan School (a Safavid theological school built in the time of Shah Abbas I);
- No (new) Mosque (the second oldest mosque f Shiraz erected in 13th century.
On your way from Vakil Bathhouse to the Citadel of Karim Khan, you can also visit Pars Museum which is in the middle of the beautiful Nazar garden.
Photos of the Top Places You Must Visit in Shiraz
Explore The Route
Take Glimpses of the History along the Pass Ways of Shiraz
Each monument in Iran reminds of a historical figure or certain historical events. While in Shiraz, one of the top places to visit is Nasir-al-Molk Mosque, built with the command of Mirza Hasan Ali Nasir al-Molk, in the 19th century. Try to go there in the morning so as not to miss the exquisite natural play of lights through the colorful glass. Then stop at Shah-e Cheragh Shrine where Sultan Mir Ahmad, one of the brothers of Imam Reza was buried in the 9th century. Being the chief religious site in Shiraz, Shah-e Cheragh Shrine boasts of remarkable architecture.
Our next stops on this route are the structures built in the 18th century by Karim Khan Zand, the then regent of Iran. The Vakil Bazaar was built in a cross shape plan and contained shops and caravansaries which stand to this date. After Bazaar it is a good idea to visit the 18th century Vakil Bathhouse and the Vakil Mosque. The bathhouse occupies an area of 1,350 square meters and its chambers were designed in a way to prevent the heat from escaping the chambers and cold air from getting in. The Vakil Mosque maintains the basic features of Zand architecture, though it has endured many phases of destruction and reconstruction. The journey through the monuments built by Karim Khan Zand can be completed by a visit to the Citadel. It consists of 12,800 square meter area with four circular towers at each corner. The Citadel was constructed as a fortified residential and administrative area in the center of the city.
Important Information
Cost Info
Nasir Al-Mulk Mosque (Pink Mosque)

2 €

Shahcheragh Shrine

free

Vakil Bazaar

free

Vakil Mosque

3 €

Vakil Bath

2 €

Arg of Karim Khan (Karim Khan Citadel)

3 €
Destination

Transportation Type

Transportation Fee

---
Additional Info
Visiting the iconic Qajarid mosque of Nasir al-Molk built in the 19th century

Visiting the holy shrine of Ahmad and Mohammad, sons of the seventh Imam of Shias, first built the 12th century

Walking along the 18th-century traditional bazaar of Vakil

Browsing the 18th century mosque built in the time Karim Khan Zand

Visiting the 18th- century bathhouse in the Vakil Complex

Exploring the handsome citadel dating back to the 18th century.&nbsp

&nbsp